Welcome to TOPTAGS website
Order Roxan ID "Smart EID" tags from us!


Click here to see the range of FREE REPLACEMENT CATTLE TAGS FROM ROXAN AND SHEARWELL!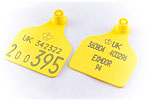 Top Tags is a small family run business based near Kelso in the Scottish Borders, with all tags ordered delivered straight to your door. Top Tags is a supplier of leading brands of animal identification, with a good relationship with Allflex, Shearwell and Roxan ID

We supply farmers with up to date information on DEFRA regulations as well the latest electronic tags. Top Tags provide animal identification for cattle, sheep and pigs as well as llamas, goats and even water buffalo and deer!

The aim of Top Tags is to provide a friendly and reliable service to all customers that is available seven days of the week. If you have queries, feel free to drop us a line. We always endeavour to do the impossible!